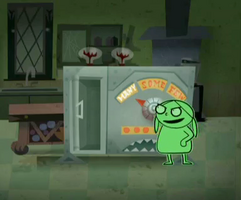 The fiend multiplier is a "fiendish invention" by Vendetta to multiply fiends when needed. The invention has three settings; "few", "some" and "many". Vendetta used "many" when she multiplied her guard dog fiend, which resulted in the fiend turned into six. Charlotte then used it to multiply herself, and she also multipled more Guard Dog Fiends.
Ad blocker interference detected!
Wikia is a free-to-use site that makes money from advertising. We have a modified experience for viewers using ad blockers

Wikia is not accessible if you've made further modifications. Remove the custom ad blocker rule(s) and the page will load as expected.