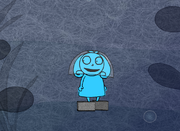 Please note that the songs do not have official titles; the titles listed below are what seem most logical.
Almost every episode contains a musical number, mainly sung by Charlotte. Episodes that lack songs include "Shrinking Slug", "Rainy Day Schedule", "Rubella", "Super Evil" and "Parentnapped". Some episodes have two or more songs. Around 40 songs have been performed. The song "Monkeys" have been sung in three episodes, but with different lyrics. The theme song appears in every episode.
Web series
Edit
TV series
Edit
Ad blocker interference detected!
Wikia is a free-to-use site that makes money from advertising. We have a modified experience for viewers using ad blockers

Wikia is not accessible if you've made further modifications. Remove the custom ad blocker rule(s) and the page will load as expected.