Home
Talk

3
221pages on
this wiki
News
---
Featured article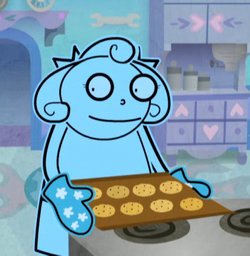 Charlene is Charlotte's cheerful grandmother. She and Charlotte are both happy, outgoing, kind and unaware of evil. Like Charlotte, she is voiced by creator Amy Winfrey. Charlene did not appear in the web series as she was introduced in the television series when the universe was expanded. Charlene runs a store called Grandma Charlene's Candy and Auto Parts, where she sells everything from lemon drops to brake cables. She is often referred to as Grandma Charlene, even by herself.
At the beginning of the series, Charlene and Charlotte had just moved to Clamburg from Vermont. Charlene first appeared when she dropped Charlotte off at school for the first time. A commercial for Charlene's store airs on television. She is also a member of the book club and a friend of Ms. Minty's. Her personality is essentially that of an older Charlotte. She is outgoing and ignorant of all that might be bad or harmful. She has a gigantic bookcase full of cookbooks in her kitchen, and says that she loves cookbooks because they have "so many pretty pictures and nice recipes". Charlene is convinced that Charlotte's parents are "astronauts on a space station". This is however unclear. This could have been something Charlene said to Charlotte to not make her sad. Like Charlotte, Charlene doesn't really see anything evil in the world, as she thinks the evil Vendetta is a "sweet girl".
(more...)
---
Selected picture
Candy and Auto Parts is a store in Clamburg owned by Charlotte's grandmother, Charlene. A commercial for the store airs on television, as seen in the episode "Parentnapped". The store has never been seen other than on television. In the commercial, Charlene says,
Get your sugar hams and overhead cams,
Peppermints and window tints,
At Grandma Charlene's Candy and Auto Parts!
---
Did you know...
---
Community links
Internal
External
Wikis
Dear stupid journal
Create blog post
I was looking at Lagon's user page and saw something called a userbox. I want one, but I don't know how to upload it. Can someone tell me how?

Read more >

SMACK! Dab in the middle of Clamburg! Jusk Kidding. I just wanted to do some joke. But I am really back on the wiki so we now have another wiki editor :)

Read more >
See more >