Nicktoons is a American Digital Cable Television Network that used to air Making Fiends up until September 3, 2012. It is a sister channel of Nickelodeon, and airs Nickelodeon cartoons (otherwise known as Nicktoons.) and some original animated series exclusive to Nicktoons 24 hours a day. The channel is owned by Viacom.
Programming
Edit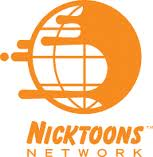 Nicktoons is known for airing Nicktoons 24 hours a day. However, lately, it has added live action programming to it's line-up. The network is used to air TV Shows that failed on Nickelodeon, along with airing TV Shows that wouldn't have attracted high ratings on the main channel.
Current programming seen on Nicktoons that also appears on Nickelodeon includes Spongebob Squarepants, The Fairly Odd Parents, Robot And Monster, and Teenage Mutant Ninja Turtles.
Animated series that are exclusive to Nicktoons include, NFL Rush Zone, Wild Grinders, and Making Fiends.
Other shows Nicktoons airs that used to air on Nickelodeon but no longer airs on Nickelodeon includes Invader Zim, El Tigre: The Adventures of Manny Rivera, ChalkZone, Danny Phantom, and Fanboy & Chum Chum.
==History With Making Fiends==
Making Fiends was originally signed up to air on Nicktoons sister channel, Nickelodeon. However, soon before it began airing, Making Fiends was swapped to air on Nicktoons last minute. However, the first episode aired without a hitch on October 4th, 2008. The series aired with no promotion or press release. At one point, it was the highest rated original program on Nicktoons. Despite positive reviews and above average ratings, the show was abruptly cancelled after airing only six episodes on November 1st, 2008. For four years, Making Fiends aired in reruns on Saturdays and Sundays at 6 AM. However, on September 3, 2012, Nicktoons stopped airing reruns of Making Fiends. In October 2014, Nicktoons started airing reruns of Making Fiends again until October 26, 2014.==
Ad blocker interference detected!
Wikia is a free-to-use site that makes money from advertising. We have a modified experience for viewers using ad blockers

Wikia is not accessible if you've made further modifications. Remove the custom ad blocker rule(s) and the page will load as expected.