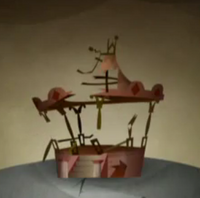 The Polka Music Festival was a festival that made it's first appearance in Shorts: Set 1. It was held in Clamburg every year in the spring. However, it was later shut down by Vendetta. It is currently run down, and decayed. Not much else is known about the Polka Music Festival.
Ad blocker interference detected!
Wikia is a free-to-use site that makes money from advertising. We have a modified experience for viewers using ad blockers

Wikia is not accessible if you've made further modifications. Remove the custom ad blocker rule(s) and the page will load as expected.